IPTV MAG540w3 Wifi Infomir 4K
Infomir MAG540w3 with Ethernet (100Mbit/s) and DualBand Wifi (550Mbit/s). Linux IPTV settopbox. Shipping worldwide, next day delivery.
Shipping Worldwide from 6 EUR, Next Day Delivery
Manufacturer: Infomir
Warranty (months): 24
Not Rated Yet !
Rate Product Now !
Type of plug
Please, select plug type.

Discount for bigger packing:
0

% off
Choose larger quantity and get better price!
in stock: 220 unit/s

---
Price per piece:
Total price:
$ 90,95
the price does not include VAT
Shipping cost to your country
Add to the WishList. Remove Item from Wishlist Remove from comparison Compare product
Detail information
MAG540W3 Linux IPTV settopbox made by Infomir. Wifi on board , Dual Band 2,4 + 5 GHz (up to 550Mbit/s).

Possible to connect also via Ethernet cable , speed 100Mbit/s.
MAG540W3 is a new chipset CPU IPTV set-top box from Infomir. Infomir MAG 540W3 using as HW 1 GB of RAM and 4 GB of flash memory.

MAG540W3 plays files with HEVC codec. This reduces the load on the network, even when it comes to streaming 4K content. Set-top box runs under Linux OS.
Supports 4K and HEVC, Linux OS, USB x 2 (3.0, 2.0), 1GB RAM, 4GB eMMC
Chipset : Amlogic S905Y4 Quad-core ARM Cortex-A35, 2000 MHz
Performance : 16500 DMIPS
RAM : 1 GB
Flash memory : 4 GB eMMC
Software
Operating system Linux 4.9
Middleware supported Pre-integrated Ministra TV platform from Infomir. It is possible to integrate operator applications into the image, customize or completely replace the image.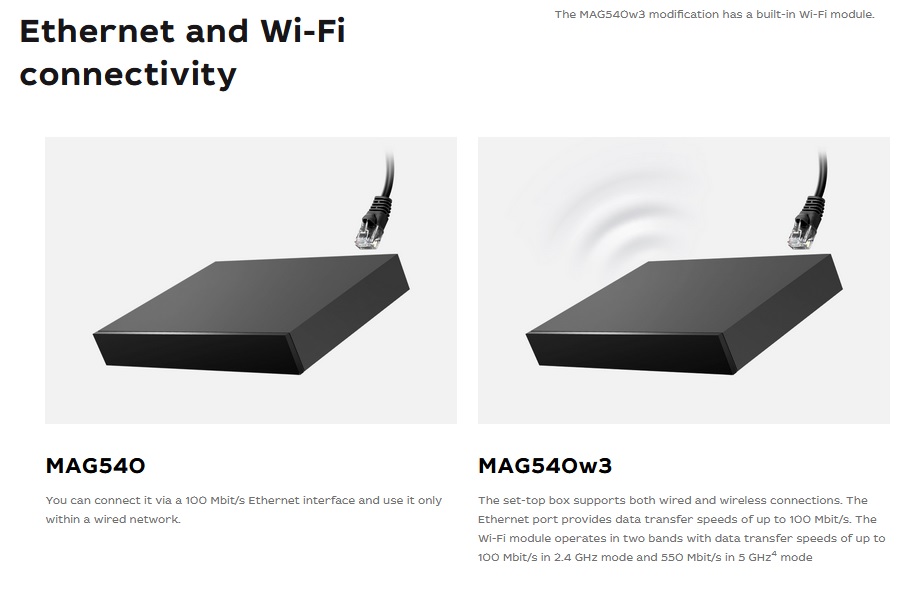 Interfaces

HDMI 2.1, DualBand Wifi on board (up to 550Mbit/s) , Ethernet 100 Mbps, USB 2.0x1, USB 3.0x1

Sources of media content

PC and NAS in local network, Stream media protocols (RTSP, RTP, UDP, IGMP, HTTP), USB-devices

Audio & video
Audio codecs MPEG L1 / L2 / L3l, AAC-LC, HE AAC V1 / V2, APE, FLAC, Dolby Digital Plus
Audio formats AC3, ACC, APE, FLAC, M4A, MP3, OGG, WAV
Video modes PAL, NTSC, 576p, 720p, 1080p, 1080i, 2160p
Video codecs MPEG1 / 2 MP @ HL, MPEG4 part 2 (ASP), H.265 Main / Main 10@L5.1 High 2160p @ 60 fps (optional), H.264 AVC High@L5.1 2160p @ 30 fps, XviD, 3D video support
Video containers TS, AVI, MPEG, MP4, MOV, MKV, M2TS, VOB
Image formats JPEG, PNG, BMP, RAW
Subtitles DVB, PGS, SRT, SSA / ASS, SUB, Teletext subs, WebVtt, Closed captions
Playlist formats M3U, M3U8, PLS, CUE

Included in Package :
MAG 540W3 (with LAN & Wifi)
Power Supply Unit (EU/US or UK - choose during ordering)
Remote Control Unit + Batteries
HDMI Cable
Short User Manual
Infomir License Label

Shipping worldwide via FedEx and DHL , next day delivery.
---
Discussion
---
---
Product Parameters
Software: Linux
Connectivity: Ethernet, WIFI 600mbps, Dual band wifi (2,4GHZ +5 GHZ)
HEVC (H.265): Ano
Resolution: UHD (4K)
RAM: 1GB
Flash Memory: 4GB